Below, some of the recipes we have featured in our magazine, contact us if you have a favourite for us to include!
Anchovy, Red Pepper & Radish Niçoise salad recipe
We're entering into the kitchen gardener's busiest but most satisfying time of year. All that hard work in the early spring, sowing seeds and pruning trees, has paid off and by this time the results are coming in fast and strong, quicker than one can know what to do with, in fact. This heady abundance is what makes a good salad such a staple of summer cooking, when all you've to do is toss a few sun-ripened ingredients together and then beat a retreat to a shady corner.
It's one of those times of year where you can really see, and taste, how the seasons collide. Alongside the sun-worshipping tomatoes, cucumbers and courgettes, you're still using up the best of the late spring vegetables. The first roots that will see us through the cooler months are making their first appearance, in an often-missed baby form. Tender beetroot, carrots & radishes with their distinctly earthy, mineral notes are a brilliant way to balance out the sweet, acidic flavours of summer tomatoes. If you can get them with their leaves still on, even better, as the pepperiness of radish and carrot leaves are brilliant as a replacement for rocket in a green salad, together with the meaty leaves of the lettuces we devour through summer.
These easy, quick combinations are such a strong argument for cooking seasonally, minimum effort, maximum flavour.
Anchovy, Red Pepper & Radish Niçoise
Serves 2
The fiddliest part of this recipe is roasting the peppers. You can buy very good jars of roasted peppers, which I use if I'm in a rush. However I would encourage you to try it out yourself, as these are such a versatile ingredient. Once roasted, you can do so much with them, marinade with basil & thyme and serve on crostini, toss through pasta with parsley and capers or simply serve alongside a barbecued joint of lamb, that flavour combination is wonderful.
2 red peppers
2 free range eggs
300g new potatoes or larger, chopped into small chunks
200g green beans
200g tomatoes, I used cherry
Tablespoon capers, rinsed
Small bunch parsley, chopped
One head of little gem
Handful of radishes and their leaves
2 tablespoons of black olives
2 tablespoons of good red wine vinegar
4 tablespoons olive oil, plus a tiny bit for the peppers
2 cloves of garlic
8 anchovy fillets
Preheat the oven to its hottest temperature (mine goes to 230ºC). Smear the peppers with a little olive oil and roast for 25 minutes until charred.
Meanwhile, bring a medium-sized pan of water to the boil and fill a bowl with ice water. First boil your eggs for 6 minutes, and plunge into the cold water. Immediately tip in the beans, boiling for 3 to 4 minutes until al-dente. Pop those into the cold water too.
Pop the potatoes into the boiling water and cook for 12-15 minutes.
In the meantime, prepare the dressing. Finely grate or crush the garlic into the salad bowl with the olive oil and red wine vinegar. Whisk together with a grinding of black pepper and a little salt. You don't need lots of salt in this salad, as the anchovies and capers are already well-seasoned.
Prep all the other ingredients into a separate bowl. Cut the radishes into quarters, the tomatoes into halves and tear the little gem into bite-sized pieces. Use some radish leaves, whole, for added spice. Tip in most of the olives, capers and chopped parsley, together saving some for garnish. Add in the drained beans.
The potatoes should nearly be ready by now. Once cooked, drain and then tip straight into the dressing at the bottom of the salad bowl, they'll soak up the garlicky oil.
Peel the eggs and cut into halves or quarters.
For the peppers: Once well charred, carefully remove from the oven and place in a bowl, covering it with cling film. Leave to wilt for five minutes. Then, wearing rubber gloves as the peppers are still going to be quite hot, pull out the stalk and discard. Tear the peppers into two and remove the seeds. Using a small blunt knife, peel away the outer burnt skin, it should come away quite easily but use the knife to scrape if not. Tear into slices.
Pop the peppers and other salad ingredients on top of the potatoes and mix well. Taste to see if it needs more seasoning, olive oil or vinegar.
Place the eggs and anchovies across the salad, sprinkling with the remaining capers, olives and parsley.
Serve with baguette, if needed.
Chicken & Seafood Paella
Prep 10 mins; Cook time 50 mins; Total time 1 hour; Serves: 8
Paella is a classic Spanish rice dish and it's widely regarded as Spain's national dish.
This recipe is by no means authentic, this is just our version of paella. We recommend using a Paella pan because it has a wider surface and the secret of paella is cooking everything evenly in a single layer and as it cooks the rice gets toasty and crispy at the bottom and that's what you want in a good paella.
Ingredients:
2 tbsp olive oil
4 chicken thighs, boneless and skinless cut into 1 inch pieces
2 chorizo sausages, cut into 1 inch pieces (I used Italian sausages)
1 large onion, chopped
6 garlic cloves, minced
1½ cups Paella rice
1 can (14 oz or 398 mL) diced fire roasted tomatoes
4 cups vegetable or chicken broth
1 tbsp hot sauce such as Tabasco or Sriracha
2 tsp smoked paprika
1 tsp saffron
salt and pepper to taste
1 lb large shrimp, shelled and deveined but keep tails on
1 lb clams, scrubbed and soaked
1 lb mussels, scrubbed and soaked
fresh parsley for garnish
1 lemon cut into lemon wedges
Instructions:
1. In a large paella pan heat the olive oil over medium heat. Add the chicken and sausage, season with salt and pepper, then cook for about 5 minutes until the chicken is no longer pink.
2. Move the chicken and sausage to one side of the pan, then add the onion to the other half, season with a bit of salt and pepper and cook for 2 minutes until the onion becomes translucent and soft. Add the garlic and cook for another minute.
3. Add the rice and tomatoes to the pan and stir well. Let the rice cook in the sauce from the tomatoes for about 5 minutes, you will notice it will start to brown on the bottom, which is what you're looking for. Add the broth, hot sauce, smoked paprika, saffron and season with salt and pepper if needed. Stir everything together and cover with a large lid. Cook for about 15 minutes or until most of the liquid has been absorbed by the rice. The rice will not be cooked through at this time.
4. Turn down the heat and stir the rice around a bit, you will notice the crust on the bottom of the pan, that's what you're looking for. Arrange the shrimp, mussels and clams over the rice, cover with a lid again and cook for another 10 minutes or until the mussels and clams open up.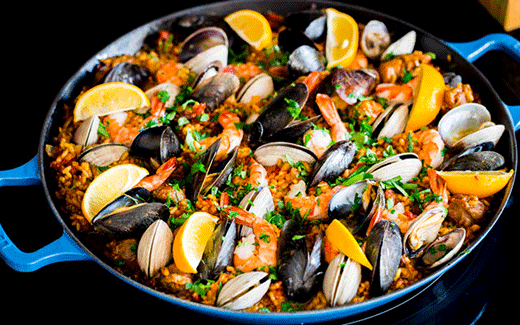 5. Turn off the heat and garnish with parsley and lemon wedges.
Thai Lettuce Wraps with Crispy Fish and Peanut Sauce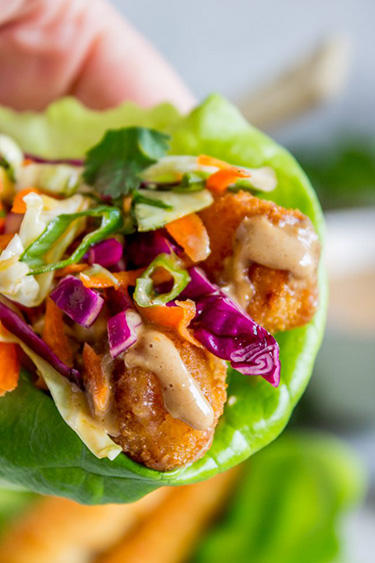 Serves 4-5:
Thai Lettuce Wraps are a fabulous way to start off your February! ...Supple lettuce wrapped around crunchy baked fish, topped with a gingery homemade Asian coleslaw. Drizzle with sweet and spicy Thai Peanut Sauce and you have an easy and healthy Asian-inspired weeknight dinner!
Ingredients:
1 (19 ounce) package 100% Whole Fillet Fish Sticks
2 heads lettuce
For the Asian slaw:
1/2 cup rice vinegar
1/4 cup granulated sugar
1 tablespoon soy sauce
3 tablespoons fresh ginger, minced
1/4 cup sesame oil
3 cups purple cabbage, shredded
3 cups green cabbage, shredded
3 cups shredded carrots (3-4 large carrots)
1/2 cup green onions, chopped
1/4 cup fresh cilantro, chopped
For the Thai Peanut Sauce:
2/3 cup peanut butter
1/2 cup coconut milk from a can
2 tablespoons ginger
2 cloves garlic
2 tablespoons soy sauce
1/4 cup lime juice (about 2 limes)
1 teaspoon brown sugar
1/4 teaspoon crushed red pepper flakes
1/4 teaspoon salt
Instructions:
Bake the fish sticks:
1. Preheat your oven to 450 degrees F. Spray a large baking sheet with nonstick spray (line with foil first for easy cleanup).
2. Line up the Whole Fillet Fish Sticks on the pan; there are 20 in a package. Bake at 450 for 10 minutes. Remove from the oven and use a spatula to flip each fish stick over. Return to the oven and bake at 450 for another 5-8 minutes, until the fish sticks are crispy and golden. Remove and turn off the oven. Return to the oven to keep warm once the temperature inside has gone down a bit.
Asian Slaw:
1. Meanwhile, in a large bowl whisk together 1/2 cup rice vinegar, ¼ cup sugar, 1 tablespoon soy sauce, and 3 tablespoons minced ginger. While you whisk, slowly pour in 1/4 cup sesame oil. You must be whisking or the oil and vinegar will not emulsify.
2. Add 3 cups each shredded purple cabbage, green cabbage, and carrots. Add the green onions and cilantro and stir it together to coat the slaw with the dressing.
3. Set aside for at least 15 minutes to let it marinate.
Thai Peanut Sauce:
1. While the coleslaw is marinating, make the peanut sauce. In a blender or food processor, add 2/3 cup peanut butter, 1/2 cup coconut milk*, 2 tablespoons ginger (you can just chop off a knob that looks like it will be about 2 tablespoons), 2 cloves garlic, 2 tablespoons soy sauce, 1/4 cup lime juice, 1 teaspoon brown sugar, 1/4 teaspoon crushed red pepper flakes, and ¼ teaspoon salt.
2. Blend it all together until smooth and creamy. Taste it and adjust the seasonings to taste. You can add more salt, red pepper flakes, or lime to juice to brighten it up even more if you like.
Assemble: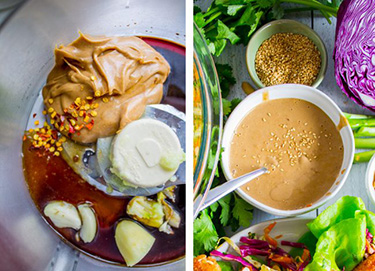 1. Separate the lettuce leaves andwash thoroughly, letting them dry on a paper towel.
2. Place 2 fish sticks on 2 butter lettuce leaves. Drizzle with Thai Peanut Sauce. Top with Asian slaw. Devour animal style.
Recipe Notes:
If you use two fish sticks per lettuce wrap, you will get about 10 lettuce wraps total. The coleslaw amount is generous and you may have some leftover. Eat it up with some grilled chicken.
*Coconut milk - there's a thick white creamy part, and a thin watery liquid. Stir it together a bit to form a creamier liquid. You don't need to get all the lumps out, and adding lumps straight into your blender is fine.