David Broadhead & Patricia Dale
DAVID AND PATRICIA MET in Nerja in 1989, encouraged by mutual friends who thought the two painters should meet . And so they did, and that started a partnership in painting and a personal one as well . They went out painting in the campo with picnic lunches, both of them painting scenes around them in watercolour. Later David, who had started as a studio painter, moved back to the studio and continued his work in acrylics. Patricia continued to paint watercolours both outside and in the studio.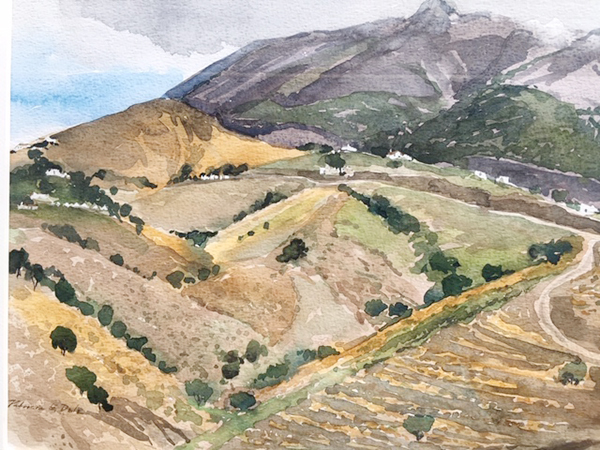 They have had combined and individual exhibitions in Nerja, Torrox Costa, Veléz Málaga, Torre Del Mar, Almunecar and Moron de las Frontera outside Seville .
They also exhibited in Alcaucin where they settled from 1991.
Patricia arranged a homage exhibition of David's work as well in Malaga a year after David passed away in 2017.
The exhibition in Alcaucin will be the final exhibition of their combined work.
Lux Mundi
Lux Mundi Ecumenical Centre, Torre del Mar. Avda. Moscatel 1"I", (Jardines Viña Malága/Antigua Casa de la Viña), Torre del Mar, 29740. Opening hours Monday through Friday 10.00 to 13.00 and 15.00 to 18.00. For further information and bookings please contact the Centre, Torre del Mar Tel.952 543 334 E-mail: This email address is being protected from spambots. You need JavaScript enabled to view it. Web site: www.lux-mundi.org .Please note you are unable to make bookings through the web site and sorry we cannot accept cards. We would also like to invite you to become a Friend of Lux Mundi, please call in the Centre for more information.
OCTOBER COMING EVENTS AND EXCURSIONS.
Every Monday - Knitting & Crochet Group. Come along to learn how to knit or crochet or just join a group of like minded individuals to help make ponchos & wraps for the ladies and waistcoats for the men. Time 11.00 to 13.00 at the Centre.
Every Monday - German Coffee meetings. Time 15.00 to 17.00.
Every Tuesday 11.30 to 13.00 & Thursday 16:30 to 18:00. - Espan-Glish Group at the Centre. Interchange of Languages. Improve your level of Spanish and help others to improve their English. 2 Euros for room fee or with a Friends of Lux Mundi card €1. Proceeds for fundraising.
Every Wednesday - Tech. Workshop, computer, phones and tablet. Please come along to the Centre with your laptop, phone or tablet and get advice from our expert on how to use or solve a problem on your devices. Time 10.00 to 11.30. €5 for room fee or with a Friends of Lux Mundi card €4. Proceeds for fundraising.
Every Wednesday - Get Slim Group. Come along to an informal group that will meet to weigh in and encourage each other to lose weight. We will not follow a specific regime but discuss different ways to lose weight, share recipes and have a laugh. Drinks will be available. Time 11.00. €3 for room fee or with a Friends of Lux Mundi card €2. Proceeds for fundraising.
Every Wednesday - Art & Craft Group. Join friends in a relaxed and friendly atmosphere. The Art group meet and help each other with various forms of art, water colours, pastels etc. The craft group are currently making cards in various styles including Iris paper folding and Zentangle. Time 14.00 - 17.00 at the Centre. €5 for room fee or with a Friends of Lux Mundi Card €4. Proceeds for fundraising.
Every Friday - Coffee Morning, Boutique & Books. Time 11.00 to 13.00. A wonderful opportunity to meet friends and make new ones over a cup of coffee, tea or fruit juice with a piece of homemade cake. Time to browse our boutique with a range of new and nearly new clothing and accessories. Our household goods have some surprising bargains! There is also a wide stock of second hand English books. You can book tickets for coming events and excursions. There is also a little bit of paradise to enjoy sitting in the garden. We look forward to seeing you.
Sunday October 6th - Harvest Thanksgiving & Blessing of St. Francis Service for Pets. Please come and join friends of the St. Barnabas Church, in the Lux Mundi, Torre del Mar Centre. Please bring your photographs of your pets so that they can be blessed during the Service. Once the prayers are over, you will share a lunch, so please bring a plate of food. From Sunday September 29th to Sunday 27th October food will be collected at the Centre and later it will be distributed amongst the local charities. Time of the Service 11.00.
Monday October 7th - Half Orange "Bring and Share" Lunch, widows, widowers and singles group. You are welcome to join us and make and meet new friends at the Centre. The group also meets on the other Mondays of the month for coffee, walks, visits to places of interest, etc. Time 13.00.
Tuesday October 8th - Photography Group. From "Good Shot" to "Great Shot", why not come and improve your photography with Rob Bell Photography. A fun and informal group. Open to all, from beginners to the more experienced photographer, regardless of the type of camera and use. This season we will be looking at the various styles of photography and computer software with monthly themes and photo challenges. Don´t forget to bring your camera. 5 Euros for room fee or with a Friends of Lux Mundi card 4 Euros. Time 16.00 to 18.00. Proceeds for fundraising.
Wednesday October 16th - Sing along to the film "Grease" and buffet. Please bring friends and come along to watch the film, sing-a-long and have a dance to all the songs. There will be a tapas supper and drinks are available to purchase. Time 18.30 for 19.00. Tickets available at the Centre Price €8 or with a Friends of Lux Mundi Card €7. Proceeds for fundraising.
Thursday October 17th - Coach Excursion to Gibraltar. Ticket price €13, or with Friends of Lux Mundi Card €12 available at the Centre. Proceeds for fund raising. Departure times Puente don Manuel (Bar Mis Tapitas) 6.45, Algarrobo (Lidl) 7.15, Caleta (Vets) 7.20 and Torre Del Mar (Bus Station) 7.30. Depart Gibraltar15.30 approximately. PASSPORTS / I.D. REQUIRED.
Monday October 21st - Art Appreciation Group. Please come and join friends and watch a DVD. Andrew Graham- Dixon examines the history of French art, revealing how it emerged from a struggle between tradition, revolution and rules of the citizens. He compresses centuries of culture into three thematically linked chapters. This will be followed by a lively discussion. €3 for room fee or with a Friends of Lux Mundi Card €2 available at the Centre. Proceeds for fundraising. Time 11.00.
Monday 21st to Thursday 24th October - Excursion to Baeza, Úbeda and Cazorla. Tickets are available at the Centre, price: A non refundable deposit of €120 or with a Friend of Lux Mundi card €100. The balance due by the end of September of €189 per person in a double room or €229 single room. Price includes insurance, guided tours and entrance fees. Proceeds for fundraising. Departure times: Viñuela (Football pitch) 08.15, Torre de Mar (Bus station) 08.40, Caleta (opposite the Vets) 08.50, Algarrobo (Lidl) 9.00.
Wednesday October 30th - Quiz Night. Please come and enjoy our Quiz Night at the Centre. Team up with friends and pit your wits in this fun quiz. A light hearted evening which includes supper. Bar available and there will be a prize for the winning team! €7, or with a Friends of Lux Mundi card €6 available at the Centre. Proceeds for fund raising. Time 18.30pm for 19.00.
5th International Art Symposium in Competa!
Art & Creation
...bemoved by the energy, light and inspiration!
From the 11th till the 19th of October a special group of artists will visit the charming mountain village Competa. It's a big honour that they travel from far away to get inspired in Spain! Lieuwke Loth, who also runs the art Gallery Luz de la Vida, and is an artist herself, organises this art symposium for the 5th time. Each time again it's a great event, which brings a lot of joy and new connections. Lieuwke does the curation and always looks for professionality, authenticity and creativity in the artists work. Artists from all over the world gather to exchange information, techniques and ideas related to their professions. The symposium is a public event using local spaces, in Cómpeta where locals, art-lovers and visitors can meet the artists and experience how they create their art with spontaneity, originality and creativity. This event broadens horizons and helps improve understanding of other cultures,
Countries and art.
This year we'll host: Abgar Khachatryan from Armenia, Manish Sharma from India, Tanja Eigendaal from Denmark, Lee Youngji from Korea, Natalya Zaloznaya from Belarus, YuJin from China, Wieland Schoeffner from Germany, Ronald Kleijer from Netherlands but living in Uzbekistan, Lidia Simeonova who lives in theUSA but originally comes from Bulgaria. And Sergey Komyagin and Elena Shumacher from Russia who will come all the way by car!
A young Tsjech couple comes especially over to help Lieuwke with all arrangements and organisation. So all with all we've an International group! We'll post regularly pictures and films on our fb page: www.facebook.com/symposiumluz.
Marga Lowensteyn will cater again, she is a great volunteer, helping to make this all happen in Competa! The Taberna Teteria and Taberna Oscars like to support this event and will offer their exquisit food to the artists. The council offers their spaces so that the artists can work there. And Lara Jayne Jackson, professional film maker, originally from London, now living and working in the Axarquia will film the event. We're happy that people love to collaborate to make it a great week for both the artists and the visitors! A big thank you to them!
As special guests we'll welcome 'Bonsainara' as well. The Bonsai Master Nacho Salar, who lives in Torrox and has his Bonsai garden and workshop there, comes to the village to explain and show us the art of shaping Bonsai trees!
If you're interested to hear more about this art, he will be present on Thursday and at 17:00pm. He will give a lecture.
The programme for the week:
On Saturday the 12th of October, at 12pm, the artists will introduce themselves in the Gallery Luz de la Vida, they will do a short presentation about their art and you're welcome to meet them.
Monday the 14th till Thursday the 17th of October from 11am - 14:00 and from 16:00 till 18:00pm and Friday the 18th only till 2pm you can visit the artists who will be at work. They use the space of the council: Salon de Actos in Competa and the Gallery Luz de la Vida. Thursday the 17th at 6pm we've a special offer! An Indonesian dinner for €15,- (1 drink included), and live music.
Limited places, bookings: This email address is being protected from spambots. You need JavaScript enabled to view it..
On Saturday the 19th of October, the art will be shown in Gallery Luz de la Vida in Competa. The inauguration and celebration takes place at 12pm and most artists will be present, we'll have some live music as well. The art is for sale and the exhibition will be on show till the end of November. This all is organised and arranged by Lieuwke Loth and until now she did not (yet) receive much financial help for this event. The symposium art that will be sold helps her/us to continue with this great annual event! Save the dates and meet all the artists! We're looking forward to see you in Competa!
More information: www.galerialuzdelavida.com
Facebook: symposiumluz
Instagram: galerialuz de la vida
Galeria Luz de la Vida, Calle Laberinto 15 (Bajo) Competa (opposite the El Pilon)
Salon de Actos 1 & 2, Calle Rampa, just below the Ayuntamiento (opposite the Eroski shop).
The Arts Society, Nerja (TAS)
Vivaldi in Venice
A fully illustrated lecture in English by Peter Medhurst
Sponsored by Dr. Rik Heymans
on Tuesday, 15th October, at 6.00pm
at the Cultural Centre, Calle Granada, NERJA
Tickets available on the night from 5.00pm. Guests most welcome.
VIVALDI IS THE ONE Baroque composer whose music is a direct reflection of the city in which it was composed. Listen to a Vivaldi concerto and hey presto you are transported directly to the heart of 18th century Venice. The reasons for this are many, Vivaldi's passion for colour, display and spectacle in his music; the unusual way in which Venice solved its problems with the poor and the homeless; Vivaldi's health problems and his eccentricities as a man and a priest. Against the luxurious backdrop of 18th century Venice, and with live musical performances, this lecture (or study day) explores the amazing world of Vivaldi's music - music that is as intrinsically Venetian as the canvasses of Canaletto.
PETER MEDHURST'S WORK as singer, pianist and lecturer-recitalist has taken him all over the world, and in the last few years he has toured New Zealand, Australia (twice) and South Africa (four times), and made frequent tours in Europe, giving performances in Berlin, Hamburg, Vienna, Salzburg, Brussels, Antwerp, Amsterdam, Paris and Spain.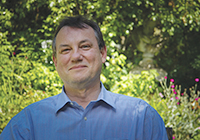 Closer to home, he has presented events at the Barbican, St John's Smith Square, and the Royal Festival Hall on The Beethoven String Quartets, Mozart Operas, Vermeer's Music Lesson, The Twelve Days of Christmas, The Golden Age of Vienna, and 18th Century Venetian Art and Music. He has also directed presentations at the Wallace Collection, the National Gallery, the National Portrait Gallery and the V&A, linking the visual arts with the world of 17th & 18th century music making.
The Arts Society Nerja (TAS) is proud to present yet another season of exciting lectures and other art-related activities. Some of the high lights for the autumn season are lectures on...
- The Phoenician Western Pearl 'Gadir' - (October 29)
- The Hands of Leonardo da Vinci - (November 12)
- Carmen in Seville - (December 10)
All lectures are presented at the Centro Cultural in Nerja at 6 p.m.
In addition to our regular lectures, a member of The Arts Society, the journalist Hans Kuitert, will do a special presentation on the looting of ancient artifacts. This lecture will be at the Museo de Nerja on November 22, at 12 noon.
All lectures are open to the public. However, TAS offers membership to those with an interest in the arts. Apart from the lectures, members will be invited to cultural tours and to various social activities.
Church Services
Anglican Church of Nerja & Almuñecar
Iglesia de San Miguel (St. Michaels Church), Nerja. Tel: 952 521 339. www.nerjaalmunecaranglicanchurch.co.uk. Sundays at 12 noon and Capilla de Nuestra Señora del Carmen (Fishersman Chapel),
Chinasol, Almuñecar, Sundays at 9.30am. Chaplain:- Fr. Nigel Thomas.
Community Bible Fellowship
Calle Pintada 35, 2nd floor, Nerja. Tel: 952 521 776. English/Spanish service Sundays at 10am. El Salvador, Balcon de Europa, Nerja. Tel: 952 520 291. Mass times, English and Spanish Sundays 10.30am, 12 noon and 8pm. Parish priest: Father José Maria.
Fellowship of Jesus Christ the King
Whether you live in Spain or are visiting our area, we would be delighted to welcome you to the Fellowship of Jesus Christ The King. Our meetings are characterised by uplifting songs and relevant sermons and a modern but reverent service, followed by free tea or coffee and biscuits. Why not come along and make new friends, every Sunday at 10.30. (John 3:16) Pasaje San Miguel, Nerja ,29780.
Email: This email address is being protected from spambots. You need JavaScript enabled to view it.
Find us on Facebook : www.facebook.com/FOJCTK/
Lux Mundi centre, Torre del Mar
To be advised!
St. Barnabas IERE (Anglican), Torre del Mar
Tel: 952 030 461. www.stbarnabas-spain.com.
Morning prayer, 1st and 3rd Sunday, 11am. Holy Communion 2nd and 4th Sunday 11am.
The Anglican Church of St. George, Málaga
Holy Communion or Morning Prayer. Sunday mornings at 11am in the English Cemetry, Avenida de Príes 1, Málaga.
Veléz Málaga, Holy Communion or Morning Prayer. Sunday mornings at 10.30am in the Antigua Capella de San José, Calle Linares 7, Veléz Málaga
Chaplain: The Revd. Canon Paul Wignall, Tel: 630 909 131 Email: This email address is being protected from spambots. You need JavaScript enabled to view it.
Assistant Curate: Revd. Doreen Cage, Tel: 618 430 763 Email: This email address is being protected from spambots. You need JavaScript enabled to view it.
More information can be found at: www.stgeorgemalaga.org
Evangelical Church, Torre del Mar
Sundays at 11.30am, worship in English, Calle Solera 2, Local 2, 29740 Torre del Mar (accross the street from the Bus Station) in the Violin Shop. Tel:634 540 519. Minister Rev. Colin Dickson. Tel: 654 884 658
Presbyterian Church, Torre del Mar
We now meet at Legends Bar, Calle Pintor Cipriano Maldonado 9, Torre del Mar. The contact is Bill Bedford, tel no 694 471 005. On the first Sunday of the month we meet at 10.30 a.m. for Communion/Breakfast, on the other Sundays we meet at 11.00 a.m.