THE ARTS SOCIETY NERJA!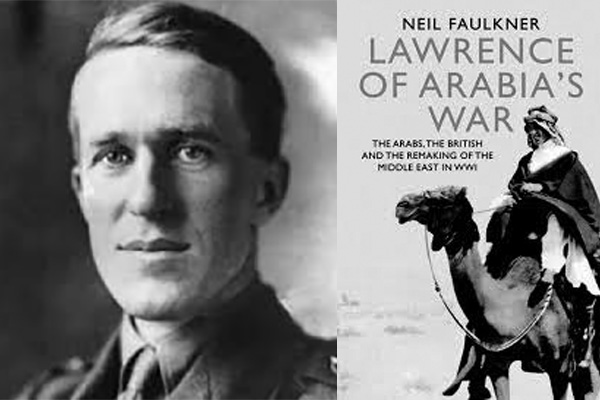 LAWRENCE OF ARABIA - TORTURED HERO OF TROUBLED TIMES
Tuesday 12th February 2019
The Cultural Centre (Casa Cultura) Calle Granada, Nerja.
6pm (Doors open at 5pm and tickets only available on the night)
Visitors are most welcome. Entrance €10 (Members of other The Arts Societies €5)
A full illustrated lecture in English by Neil Faulkner PhD FSA
Sponsored by DeCotta Law
On the basis of sensational new evidence from archaeological fieldwork, Neil will contrast the legend of Lawrence of Arabia with the true story of what happened in the famous desert war of 1916 to 1918. Is the legend a myth? Was Lawrence, as some claim, a liar and a charlatan? Or does the legend reflect reality? Was he, in fact, a brilliant military commander and a sincere advocate of the Arab national cause?
'Lawrence of Arabia' is an early 20th century instance of celebrity culture. Neil will analyse the invention and re-invention of the legend from 1919 onwards through memoirs, photos, films, paintings, biographies, and documentaries.
He will then contrast the legend with the biography of the man himself, focusing on key aspects of his early years and his character which equipped him to play – or to seem to play – a particular role in the Arab Revolt of 1916 to 1918.
In addition, Neil will review the numerous well-preserved archaeological remains of the conflict, mainly along the line of the former Hijaz Railway, have been the subject of a ten-year programme of field research led by Neil and his close colleague Professor Nick Saunders. Neil will summarise the key findings.
He will also offer a new narrative and analysis of the war based on the archaeological evidence, leading to a new assessment both of Lawrence's role and achievements, and of the relationship between art and reality in the creation of 'celebrity'.
About Neil Faulkner:
Educated at King's College Cambridge and Institute of Archaeology UCL. Works as lecturer, writer, archaeologist and occasional broadcaster. Research Fellow, University of Bristol. Editor, Military History Monthly. Director, Sedgeford Historical and Archaeological Research Project. Director, Great Arab Revolt Project. Author of The Decline and Fall of Roman Britain, Apocalypse, Hidden Treasure, Rome: Empire of the Eagles, and The Ancient Greek Olympics: a visitor's guide. Author of forthcoming Lawrence of Arabia's War. Major TV appearances include Channel 4's Time Team, BBC2's Timewatch, Channel Five's Boudica Revealed and Sky Atlantic's The British.
LAWRENCE OF ARABIA – THE ORIGINAL FILM
Tuesday February 19th 2019
5:00 pm (Doors open at 4pm and tickets only available on the night)
Visitors are most welcome. Donation €5 including a glass of wine
Sponsored by Currencies Direct
Lawrence of Arabia is a 1962 epic historical drama film based on the life of T. E. Lawrence.
It was directed by David Lean, produced by Sam Spiegel and stars Peter O'Toole in the title role.
The film is widely considered one of the greatest and most influential films in the history of cinema. The dramatic score by Maurice Jarre and the Super Panavision 70 cinematography by Freddie Young are also highly acclaimed.
The film was nominated for ten Oscars at the 35th Academy Awards in 1963; it won seven in total: Best Picture, Best Director, Best Original Score, Best Cinematography (Color), Best Art Direction (Color), Best Film Editing and Best Sound Mixing. It also won the Golden Globe Award for Best Motion Picture - Drama and the BAFTA Awards for Best Film and Outstanding British Film.
The film depicts Lawrence's experiences in the Arabian Peninsula during World War I, in particular his attacks on Aqaba and Damascus and his involvement in the Arab National Council. Its themes include Lawrence's emotional struggles with the personal violence inherent in war, his own identity, and his divided allegiance between his native Britain and its army and his new-found comrades within the Arabian desert tribes. As well as O'Toole, the film stars Alec Guinness, Jack Hawkins, Anthony Quinn, Omar Sharif, Anthony Quayle, Claude Rains and Arthur Kennedy.
In 1991, the film was deemed "culturally, historically, or aesthetically significant" and selected for preservation in the United States Library of Congress National Film Registry. In 1998, the American Film Institute placed it 5th on their 100 Years...100 Movies list, and 7th on their 2007 updated list. In 1999, the British Film Institute named the film the 3rd greatest British film of all time.
OTHELLO - MORE THAN JUST THE MOOR (A Member's Talk)
Tuesday 26th 2019
11.30am (Doors open at 11am and tickets only available on the night)
The Cultural Centre (Casa Cultura) Calle Granada, Nerja
Visitors are most welcome. Entrance €5
A fully illustrated lecture by Penni Wilson
Shakespeare wrote his play "Othello" over four hundred years ago, yet the world's fascination with the character has not diminished. It is a tragedy as relevant today, with it's themes of racism, hatred and betrayal, as it was then.
"Othello" continues to be successful as a play (of course), but to date it has also inspired two operas, three ballets and at least twenty-seven films. But who was Othello? What is it about him that fascinates us so much? Is he a murderer - a wife killer - or a victim? What happened to the deep love he felt for Desdemona? Did he actually exist or did Shakespeare simply make him up? If so, why?
This lecture will try to make some sense of it all and offers an insight into the world of "Othello". It contains live readings, video recordings, music and interviews.
About Penni Wilson:
Penni Wilson was a college lecturer at Bradford before she retired to live in Spain. Since then she has been involved in many of the local clubs and activities, including being Membership Secretary for NADFAS (now the Arts Society) for many years. She now continues to be involved with the amateur dramatics group, the Nerja Players, with whom she was also a presenter for many years on their weekly radio broadcast.
THE NERJA PLAYERS
5 FEBRUARY - 7:00 PM - With Great Pleasure and Pizza!
You are invited to bring a reading of your choice to perform. Come solo, as a couple or with a group and enjoy a slice of pizza with other fellow thespians. The floor is yours! Tonight's evening is all about you! Do you have a favorite poet or playwright's work you'd like to share? Perhaps you'd like to gather a group of thespians to read a favorite comedy skit from years past? Or maybe you've always wanted to perform a tune from your favorite musical. What about the recitation of a historically memorable speech? This night is that perfect opportunity! Props and costume encouraged but not necessary. Come and join the fun.
Members: Free | Non-Members: €3 | Pizza is on us! | Wine and bottled water available for purchase - seats are very limited so make your reservations early.

19 FEBRUARY - 7:00 PM - Hobson's Choice
This well-known comedy has long been a favourite with theatre companies and audiences alike. Written by Harold Brighouse it was first produced in America in 1915 and at the Apollo theatre, London, the following year. In 1954 it was made into a BAFTA Award winning film, starring Charles Laughton as Hobson with John Mills and Prunella Scales in her first film role.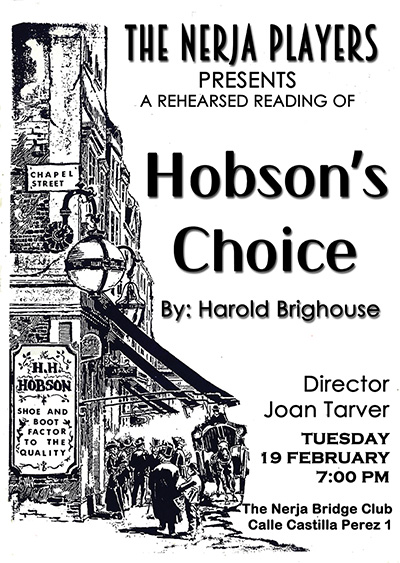 Set in Salford, near Manchester, in 1880, it features the larger-than-life character, Henry Hobson, a prosperous bootmaker and his three daughters. Despite the Victorian setting the play resonates with current attitudes as Hobson's overbearing attitude to his daughters and declared misogyny are tamed by the feisty eldest of the three, Maggie. At the same time she takes the timid and self-effacing Willie Mossop in hand and moulds him into a confident, self-assured and successful business man.

Come and find out how Hobson's Choice (Take it or Leave it!) affects the lives of these entertaining characters. Members: Free / Non-Members: €3 / Wine and bottled water available for purchase. Seats are very limited so make your reservations early
If you are interested in theatre and would like to take part, please do come along and join in.
Learn about The Nerja Players at - www.thenerjaplayers.com.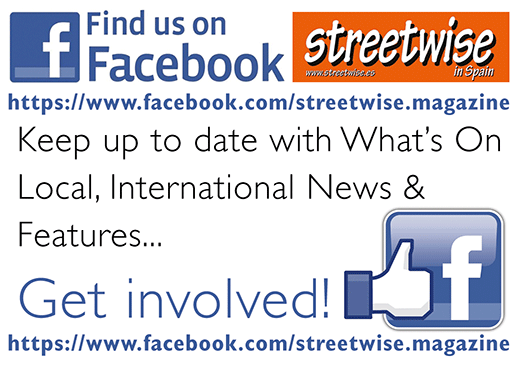 co