Inspirational summer exhibition in Calle Real 98 in Frigiliana
"Summerjoy/ Alegria de verano"
This August Spanish artist Alberto Tarsicio and Dutch artist Lieuwke Loth exhibit their art in the exhibition space 'Real 98'.
Alberto Tarsicio will show oil painting impressions of the summertime sun illuminating the Spanish sea. He works with fluoride colors and is able to paint the waves and water in such a vibrant a way so that it feels like seawater splashes out of the canvas. He will also show a series of paintings of radiant flowers.
Tarsicio was born and raised in the coastal area of Torre del Mar. Nowadays he is a professional artist showing his works locally and abroad. He set up a cultural centre '3Puertas' in Torre del Mar. It began as a cultural place where people could gather, and it is now a solid base for exhibitions, live music and exchanges with artists from abroad. Tarsicio will be present in the exhibition in Frigiliana as well on some of the opening days.
Lieuwke Loth is a Dutch artist based in Competa's natural park. She runs a gallery in the center of the mountain village; "Galeria Luz de la Vida." She loves to create art, organise art events, and connect with other creative souls. She has organised the "Art Walk" for six years, and in autumn she will have her fifth International Symposium "LUZ" in Competa. She makes bronze sculptures and also lasercut metal pieces. She also draws and paints fantastic and colorful pieces. She loves traveling for inspiration and the works she makes are influenced by the cultures and countries she has explored. In this exhibition she will show primarily lasercut wall pieces. Some she designed in Uzbekistan and Thailand, others in Spain. They are made out of stainless steel or cortensteel. The pieces can be hung outside and inside. With some light on the works, they get an extra dimension. And it can give a complete different feel to your living room, roofterrace, patio or garden!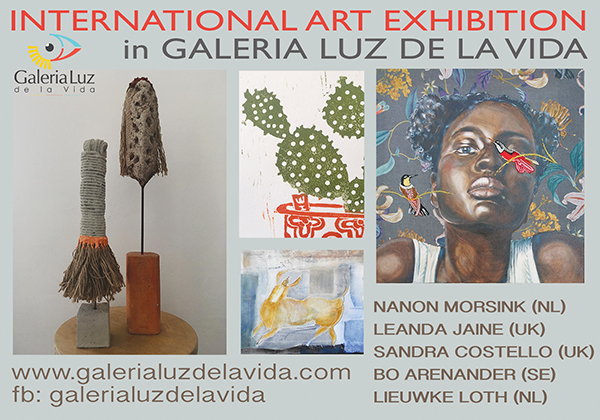 You might like to combine your visit to Frigiliana with the famous '3 Culturas Festival' taking place the 22nd till 25th of August! A big music and cultural festival during the day & night. These days the gallery, owned by the town hall, is open as well. Get inspired by high quality art and a good atmosphere at Calle Real 98!
Calle Real 98, Frigiliana
Friday 16th of August till Sat 31st of August
Business hours: Friday 16th of August 6-9pm Inauguration
Tuesday, Wednesday, Thursday, Friday, Saturday, Sunday, 11-2
& Thursday, Friday, Saturday 6-9pm
0034-722539488 (whatsapp) / 0031-650408977
www.facebook.com/lieuwkelothart · www.lieuwkeloth.com
https://albertotarsicio.wordpress.com/
MUSIC FEST...
Sunday August 25th 2019
IF YOU ENJOY LIVE MUSIC, DON'T MISS OUR 8th ANNUAL MUSIC FEST ON SUNDAY 25th AUGUST WHERE ROCK, BLUES, FUNK, SOUL, REGGAE, SKA, R&B and INDIE WILL ALL BE FEATURED!
Included in the line-up are some of Andalucia's hottest musicians, who will be performing at SCIROCCO in Puente Don Manuel (Viñuela area) for an afternoon and evening of live music from 13:30h to 24:30h. This colourful event will also include side stalls, children's entertainment, a well being zone, plus a choice of refreshments and street food ranging from BBQ to vegan and vegetarian options.
All entertainers and the myriad of helpers are donating their time, talent and travel costs voluntarily without pay which means, at €10 per adult ticket or €3 for 4 to 14 year-olds, we can offer real value for money in return for your much appreciated support. 100% of proceeds go to Axarquia Animal Rescue (AAR) and Refuge Dar Hamoosh (RDH) who each year rescue and rehome an enormous number of abandoned and abused dogs and cats. AAR operate in the Axarquia area in southern Spain and RDH run a cat sanctuary and work with street animals in and around Essaouira, Morocco. Your support at events such as this, means their work to rescue, care for and rehome these animals can be continued. Their respective websites are:
- www.axarquiaanimalrescue.com - www.refugedarhamoosh.org
and facebook pages are:
- https://www.facebook.com/groups/AAR.axarquiaanimalrescue/
- https://www.facebook.com/Refuge-Dar-Hamoosh-246942992566761/
Tickets for the Music Fest are currently on sale and available from:
PUENTE DON MANUEL - Scirocco, the venue
TORRE DEL MAR - La Tasca Bar Restaurant (opposite the police station on the N-340 coast road)
TORRE DEL MAR - Kick Off Sports Bar (Calle Pasillo Batería 9)
NERJA - Currencies Direct Office (Calle Antonio Ferrandis Chanquete 1 - tel 952 906 581)
TRAPICHE - AAR's stall at the Tuesday Farmers` markets (outdoors)
TRAPICHE - Sam Pearson's stall at the Tuesday Farmers' markets (indoors)
ONLINE via email at This email address is being protected from spambots. You need JavaScript enabled to view it.
Or CALL Jo on 650 193 777
Scirocco (the venue) is located in Calle Venta Baja, coming from the A-402, with gated car park entrance on the right just before Restaurant Taj Mahal.
If your business could offer a raffle prize (lunch or dinner for two for example), please contact Jo at WhatsApp 650 193 777 or email This email address is being protected from spambots. You need JavaScript enabled to view it..
Catch up with more news at facebook.com/events/2305113173075577/
Inspirational exhibition in Galeria Luz de la Vida
This August the gallery features work by professional artists: Leanda Jaine, Sandra Costello, Nanon Morsink, Lieuwke Loth and Bo Arenander.
All of the artists are based in Competa! You may know their art from seeing it during the Competa Art Walk. The participants have their origin in the UK, The Netherlands, or Sweden.
The charmingly rustic and yet modern gallery space offers an authentic and cosy atmosphere for you to enjoy this months contemporary art collection beautifully displayed within.
The gallery garden is popular for its gentle fusion between the sculptures and flora created and nurtured by Lieuwke Loth: a perfect place to sit down, relax, refresh and enjoy the beauty.
Please feel welcome to visit us and explore the gallery to its fullest. We have all kinds of art waiting to be discovered; from large to small works, abstract to figurative. Colourful to black and white, paintings to prints to sculptures. If you wish there is also a delightful collection of original art cards and posters available for purchase.
You might like to combine your visit to Competa with the famous 'Noche del Vino' the 15th of August! A big wine festival during day and night. That day the gallery is open as well.
Get inspired by high quality art and a good atmosphere at galleria Luz de la Vida.
Calle Laberinto 15 Bajo, Competa
Business hours: Thursday & Friday 11:00-14:00 & 17:00 - 20:00
Saturday 11:00-14:00 or on appointment
0034-722539488 / 0031-650408977
This email address is being protected from spambots. You need JavaScript enabled to view it. - www.galerialuzdelavida.com
www.facebook.com/galerialuzdelavida
Lux Mundi
Lux Mundi Ecumenical Centre, Torre del Mar. Avda. Moscatel 1"I", (Jardines Viña Malága/Antigua Casa de la Viña), Torre del Mar, 29740. Opening hours Monday through Friday 10.00 - 13.00 and 15.00 - 18.00.
Tel. 952 543 334 Web: www.lux-mundi.org
E-mail: This email address is being protected from spambots. You need JavaScript enabled to view it..
Please also see the web site for daily activities in the Centre. Please note you are unable to make bookings through the web site and sorry we cannot accept cards.
AUGUST EVENTS & EXCURSIONS
Please note there will be no Catholic Church Service during August.
Please note that in August the Centre will only
be open on a Wednesday & Friday morning
from 10.00 to 13.00.
Every Friday - Espan-Glish Group at the Centre. Interchange of Languages. Improve your level of Spanish and help others to improve their English. Price 2 Euros, or with Friends of Lux Mundi card 1 Euro. Time 11.00 to 13.00.
Every Friday - Coffee Morning, Boutique & Books. Time 11.00 to 13.00. A wonderful opportunity to meet friends and make new ones over a cup of coffee, tea or fruit juice with a piece of homemade cake. Time to browse our boutique with a range of new and nearly new clothing and accessories. Our household goods have some surprising bargains! There is also a wide stock of second hand English books. You can book tickets for coming events and excursions. There is also a little bit of paradise to enjoy sitting in the garden. We look forward to seeing you.
Thursday August 15th - Excursion to Almuñecar Fireworks. Please come and join friends of Lux Mundi, Torre Del Mar for the spectacular fireworks display. You will travel by coach to join in the festivities in honour of the Virgen de la Antigua (Virgen of the Old). She will be carried in a procession from the Church of the Incarnation through the streets to the beach of San Cristobal, where many boats are waiting at sea to accompany the image to the Plya Puertta de Lam. There then follows a fantastic firework display, set to music, against a backdrop of San Miguel Castle and the Holy Rock. On arrival there will be plenty of time for you to take refreshments before the display. Ticket price 13 Euros or with Friend of Lux Mundi card 12 Euros available at the Centre. Departure times: Viñuela (football Pitch) 17.55, Torre del Mar (Bus station) 18.15, Caleta (Opposite the Vets) 18.25, Algarrobo (Lidl) 18.30.
For further information and bookings please contact the Centre, Torre del Mar - Tel: 952 543 334 E-mail: This email address is being protected from spambots. You need JavaScript enabled to view it.