Places to Visit
The Port of Málaga

WHETHER YOU'RE HERE on a short or long visit, a 'Day' in Málaga is either a 'must' or a 'day-away'! And if you live here, then you MUST include Málaga on your list of monthly 'things to do'.
We decided to take the time this month to visit the vastly changed 'Puerto de Málaga', more commonly known as 'the port'.
A shaded walkway leads from the port to the city centre.
Malaga itself offers an intriguing blend of culture, history and beaches. The city is one of Andalusia's greatest treasures. Located on a stunning sweep of bay, with palm trees lining the seafront, this is the dynamic, friendly capital of Costa del Sol.
A wonderful place to wander and explore, particularly in the winding lanes of the old town, traditional taverns, plazas and pretty squares abound. Fine architecture with enough ancient buildings to keep you history buffs happy for hours, and although cosmopolitan, retains a distinctly traditional feel.
The origins of the port stem back 3,000 years to the Phonecians, (the guys before the Romans), through the Romans, the Muslims, the Catholic Kings and onwards up to the present day.
Málaga's greatest achievement however is that it has managed to exist and develop through its own history to become a beautiful, friendly and cosmopolitan city that enchants tourists from all over the world today.
The port is the oldest continuously-operated port in Spain and one of the oldest in the Mediterranean.
A miniature version of the London 'Eye', now a major feature at the port.
Unlike some Spanish cities, it does not wind down in summer, and is particularly lively during the Malaga Fair in mid-August.
Fabulous beaches either side of Malaga are the perfect place to just have lunch or a beer and tapas, particularly after a morning at the Picasso and Carmen Thyssen museums.
The gardens which line the city edge of the port, well worth a visit on their own.
If you haven't been for a while, you'll be amazed at how it has been spruced up. Chic boutiques, gastrobars, cool cafés and beautifully manicured gardens have sprung up along the port edge.
Side by side with the traditional taverns in the winding lanes in the heart of the city, while the waterfront has been further developed with a promenade, bars, restaurants and shops - and new this year is the Pompidou Centre. Although there is plenty to see and do in Málaga, the port is a really great place to kick back and just enjoy yourself.
It rarely gets really cold in Malaga, and it is often warm enough to sit at pavement cafés during the day even in December and January. Spring and autumn are the best times to visit.
Getting around the port couldn't be simpler, a small tour bus service operates, or if your feeling energetic od adventurous, why not hire a bicycle or Segway, of course you could always walk...
Walk along the Muelle Uno (Quay 1) waterfront development to the new Pompidou Centre in the glass cube. Visit the Picasso Museum and the
The new Pompidou Centre
Centro de Arte Contemporáneo, then drop into the Atarazanas market for lunch at one of the tapas bars. Later on, explore the galleries, bars and cafés of the trendy Soho area.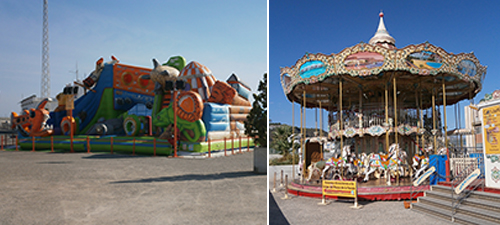 Plenty to keep the kids amused
The city centre is compact enough to walk around.
Looking across the port towards the city centre, with the Alcazaba in the background.
There is a €1.30 flat bus fare (emtmalaga.es), and number 35 from Alameda Principal will take you up the hill to the Gibralfaro castle. There is also a useful hop-on-hop-off Malaga Tour bus (city-ss.es), which calls at the port and stops at the cathedral, Alcazaba, Gibralfaro castle and other points of interest. The service runs every 20 minutes and costs €17 for a day ticket.
Taxis are plentiful and inexpensive. There is no need to use a car, unless you want to drive up to the Gibralfaro castle or to one of the beaches.
If you want to hire a car to do some day trips, try Europcar (00 34 902 105030; europcar.es), Malaga Car (00 34 952 176225; UK 0871 284 4700; malagacar.com) or National Atesa (00 34 902 100101; atesa.es).
Essential contacts: British Consulate:Mauricio Moro Pareto 2, Edificio Eurocom, Malaga; 902 109356 (from Malaga or elsewhere in Spain); 00 34 917 146300 (from abroad);
gov.uk/government/world/organisations/british-embassy-madrid/office/british-consulate-malaga
Tourist Office: 00 34 952 122020; malagaturismo.com;
Plaza de la Marina.
Other useful websites:
visitcostadelsol.com; andalucia.com; andalucia.org.
Emergency services: Dial 112.

Local laws and etiquette:
You must carry your passport with you by law, and you sometimes have to show it when paying by debit or credit card. Get a couple of photocopies of your passport and your European Health Insurance Card, both of which you will need for any medical treatment.
If driving, you must have two warning triangles, two reflective bibs, a spare tyre and spare headlamp bulbs. Children under 12 are only allowed in the front seat with approved safety belts.
It is not usual to share tables, even in fast food joints.
Anyone you are introduced to by friends will want to kiss you on both cheeks, but this does not apply to hotel staff, etc.
Lunch happens from 2pm, dinner from 9pm at the very earliest, though 10pm is the norm. Tapas get going around 1.30pm and after 8pm.
It is a bit cheaper to have drinks or tapas at the bar than sitting at a table, and sitting outside will usually cost an extra €20cents or so per item.
Locals usually leave very small tips, just odd change for drinks and snacks, and often nothing at all. A 10% tip for a meal is considered generous and 5% is more the norm, unless you are somewhere really upmarket, where international rules come into play.
Most bars won't mind if you go in just to use the toilet, los servicios.
Tap water in Malaga is perfectly safe to drink.
The Malaga Card (malagacard.com) costs €35 for 24 hours and includes admission to the Picasso Museum, the cathedral and other museums and monuments, plus use of the Malaga Tour bus and discounts at shops.